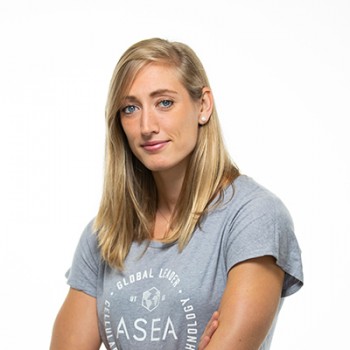 Olympic Gold Medal Swimmer
Years Competing: 10
Years Using ASEA: 10
Favorite ASEA Product: When training, ASEA REDOX. And I LOVE the RENU Advanced Skincare line!
ASEA Routine: I use the skin care line every day after I finish training and before I go to bed. For the ASEA REDOX supplement, I have 8 oz before and after each training session.
ASEA Experience
"I love taking ASEA because I know it's a clean product and it helps me recover. There are a million and one products out there, but I love that ASEA is so simple and easy to trust, and it gets me through the week."
Breeja started swimming club in 2009, her senior year of high school. She was introduced to ASEA by a family friend and started taking it within a couple of weeks of starting swim club. Breeja swam a little faster each competition and by the end of the year, she had a scholarship offer to swim at Texas A&M University.
Breeja took ASEA with her to college and by the end of her freshman year, she had placed 2nd in both the 100 and 200-yard breaststroke races at NCAA National Championships and was awarded Big 12 Conference New Comer of the Year. Having tasted success, she was hungry for more.
During her sophomore year, she ramped up her training while continuing to take ASEA and was able to get her first American Record and National Title in the 100-yard breaststroke at NCAA National Championships. A couple of months after that, Olympic Trials were being held for the 2012 games in London, where Breeja won the 100-meter breaststroke, landing her a spot on the US Women's Olympic Swim Team.
At the London Games, Breeja earned a spot on the 4×100 meter Medley Relay for the team's breaststroke phase and won Gold in the event. The following year she broke even more American Records in the 200- and 100-yard breaststroke. She qualified for the World Championships held in Barcelona, Spain, where she was part of another Gold Medal winning relay for Team USA. Since then, Breeja has continued to swim and compete in multiple international competitions, all the while trusting ASEA to help her recover.
The Person Behind the Athlete
Outside of the water Breeja mentors young athletes through a company called RISE, and conducts swim clinics throughout the US, and internationally when given the opportunity. On her own personal time, she enjoys spending time with her family, teaching her dog new tricks and going on mini road trips with her boyfriend.