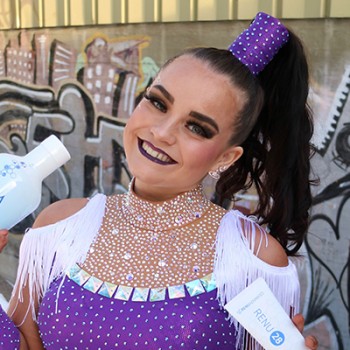 National Champion Elite Dancer
Years Competing: 9
Years Using ASEA: 1+
Favorite ASEA Product: RENU 28
ASEA Routine: "I drink 2-4 ounces of ASEA REDOX two times a day — one in the morning and one before I go to bed. I apply RENU 28 before and after my dance routines on my ankles, feet, and my back, and always use it before I go to bed."
ASEA Experience
"Before I started taking ASEA, I was in and out of the hospital constantly battling asthma. I had underdeveloped lungs, so the basic task of breathing was very difficult for me. I also had sever pain and stiffness in my back and legs due to arthritis. Thanks to ASEA, my dancing abilities are now greater than they ever could have been."
EA Victoria from Norway, born in 2000, dances freestyle, slow, and hip-hop/street style on the elite/premier championship level. She loves dancing for many reasons—It's a place where she can express herself as an artist, push herself as an athlete, and work through difficult times.
Before her dancing career began, Ea Victoria spent many, many long hours in and out of hospitals. She was constantly battling asthma due to underdeveloped lungs, and had to deal with the pains of arthritis, which affected her back and legs. Doctors thought she would not be able to manage performing as a dancer at any level, let alone such a high level. Like many of us, her biggest obstacle was believing in herself.
Ea Victoria became an elite dancer when she was just 13 and immediately began winning competitions. She was the Norwegian Champion in 2016 and 2017, and made it to finals in slow dance at the World Championship in 2017. Overall, Ea Victoria has reached the finals in more than 200 competitions, nationally and internationally.
Dancing requires a lot of physical activity and agility, which is where Ea Victoria has really experienced the benefits of ASEA Redox. She trains at least 25 hours a week, competes in Norway once a month, and travels to international competitions five times a year. With ASEA, she is able to maintain acute mental awareness while competing, push herself physically in every training session, and minimize her recovery time.
Ea Victoria is a fighter. She is a standing (or dancing) example of what determination and hard work can produce. With the help of ASEA, she continues to achieve her once impossible goals, fulfill her dreams, and inspire others around her to do the same.