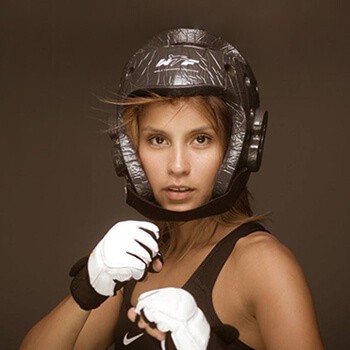 Years Competing: 20 years
Years Using ASEA: 1 year
Favorite ASEA Product: ASEA REDOX
ASEA Routine: I drink 4 oz. of ASEA REDOX when I wake up and 4 oz. before bed. I also drink 2 oz. before every training and 2 oz. after every training, twice a day. I have been using the RENU 28 on my legs before and after almost every workout, especially on my knees. I also use RENU 28 on the days when my legs feel heavy.
ASEA Experience: "As an athlete, I train to win. Every sweat, every drop of sacrifice and every moment away from my family is because I aim for gold. ASEA has helped me do this and remain pain free."
Julissa Diez Canseco never had anything easy. She is the youngest of 12 kids and the only daughter to her parents, who work tirelessly to help every child succeed.
As a child, Julissa had the natural athleticism for taekwondo. With 11 older brothers, this should not come as a surprise. At age six, her athleticism lead her to play soccer, volleyball, gymnastics, basketball, and anything else athletic. At age nine, taekwondo stole her heart and she decided to stop all other athletic endeavors and focus on martial arts.
When she was 13, her focus paid off. Her flexibility, agility, and unprecedented levels of strength and stamina earned her spot on the Peruvian National Team. Being part of the team, she had the opportunity to focus on competing in the United States, Mexico and different countries in Europe and Asia.
She also qualified for the 2011 Pan American Games in Guadalajara, where she won the silver medal. The following year she became the first Peruvian taekwondo to reach the Olympic Games in Rio 2016.
She finished her university studies in Spain where she graduated with a degree in biology, and moved to the United States so she could train to return to the 2020 Olympics in Tokyo. She currently trains on Monday to Saturday, two to three times a day.