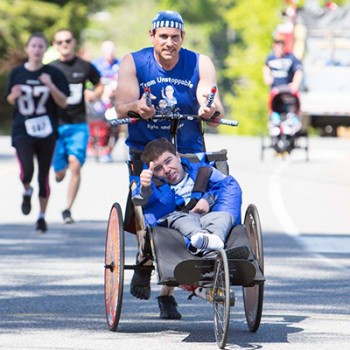 Years Competing: 6
Years Using ASEA: 3
Favorite ASEA Product: ASEA REDOX
ASEA Routine: I wake up and take 6 oz. of ASEA REDOX on an empty stomach. After my morning workout, I take 4 capsules of VIA Source. After dinner, 3 capsules of VIA LifeMax. Before bed, I drink an additional 6 oz. of ASEA Redox.
ASEA Experience
"When training and competing, I consume at least 12 ounces of ASEA REDOX per day and apply RENU 28 morning, night, and right after a race. This helps my body recover and operate at peak efficiency."
Mike is a husband, father of three, an expert in martial arts, and an active member of his community. When he's not with his family or working at Southbridge Tool and Manufacturing (the family business), Mike can be found training for a race or hanging out with his racing partner partner, Kyle.
Mike races with Kyle to give him the opportunity to experience the thrill of competition again. Kyle was left quadriplegic after a drunk driver crashed into his family's van in 1997. Before Kyle's accident, he loved competing in sports, particularly Kung Fu. Kyle is the heart and soul, Mike is the arms and legs. Together, they are known as Team Unstoppable.
Team Unstoppable was named by Kyle and represents the resilience he shows as he continually overcomes whatever obstacle is thrown at him. Mike may be the arms and legs of the team, but Kyle is the heart and soul.
Mike was introduced to ASEA Redox through his mother. After using the product for a few weeks, he noticed that he felt better during and after workouts. Mike's been using ASEA Redox for about four years and has recently introduced Kyle to it.
The Person Behind the Athlete
Outside of his inspiring hobby, Mike owns Southbridge Tool and Manufacturing, the company that created the chair that makes racing with Kyle possible. He's the kind of guy you will spot on the side of the road helping a stranger fix a flat tire, or the neighbor who will show up to help you move without being asked.