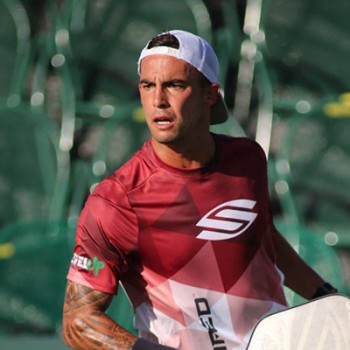 Years Competing: 4
Years Using ASEA: 1
Favorite ASEA Product: ASEA REDOX
ASEA Routine: "First thing in the morning I take ASEA VIA Source and drink 8 ounces of ASEA REDOX. I drink 8 more ounces of ASEA REDOX after my workout around noon, and in the evening I take ASEA VIA Biome and LifeMax, and 8 ounces of ASEA REDOX again."
ASEA Experience
"From an overall health standpoint, I have noticed that ASEA products have been benefiting my overall life. I feel healthier and happier, and am able to physically recover much faster from hard training days and competitions. As an athlete, ASEA REDOX jumpstarts my body and allows me to play at a high level for longer periods of time with the energy needed."
Tyson is currently ranked #1 in the world in men's pro singles, #3 in men's doubles, and #4 in mixed doubles, according to World Pickleball Federation and Pickleball Global rankings.
As the top-ranked pickleball player in the world, Tyson McGuffin is currently one of professional pickleball's most accomplished and recognizable players. Not only is he a three-time Grand Slam gold medalist in men's open singles, he also recently won his first Grand Slam in men's open doubles at the 2018 Tournament of Champions (TOC). A former pro tennis player turned pickleball star, Tyson is currently competing across the nation, playing in events sanctioned by the USAPA.
Tyson McGuffin grew up in Lake Chelan, Washington, and has always been a natural athlete. He comes from a family passionate about wrestling—his father was his high school wrestling coach. Even though wrestling was his main sport throughout his early life and high school years, he later found that he enjoyed tennis and played competitively at his junior college. He was so taken by tennis, in fact, that he passed up a wrestling scholarship to pursue it.
It was McGuffin's time as a tennis instructor that eventually led to his pickleball introduction at a local YMCA. Though he initially struggled with the fast-paced game, he was able to draw on his tennis background to become a competitive and successful pickleball player. McGuffin turned pro within just six months of playing, and his success in the sport was almost immediate, with him taking bronze at TOC and silver at the USAPA Nationals in men's open singles during his first year of turning pro.
Today, he is the #1 ranked pickleball singles player and is actively competing across the professional pickleball circuit. When he isn't playing in tournaments, you can find McGuffin serving as a USPTA, IPTPA, and PPR certified instructor for LevelUp Pickleball Camps.
The Person Behind the Athlete
Tyson is known to be occasionally loud and spontaneous at times, but fun and exciting and always on the go! He loves spending time with his son and loved ones. When he is not working out and playing pickleball, you can find him somewhere in the great outdoors enjoying a mountain and forest view. Like most of us, Tyson enjoys good food and great music, but his favorite thing to do is his favorite family pastime—wrestling with his son, Ty, at every opportunity.