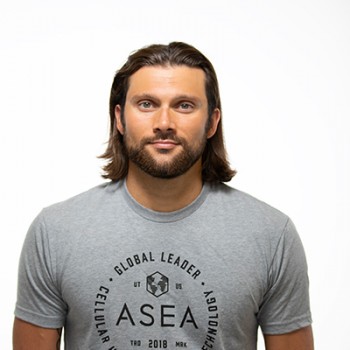 Olympic Gold Medal Swimmer
Years Competing: 19
Years Using ASEA: 8
Favorite ASEA Product: RENU 28
ASEA Routine: "I drink eight ounces of ASEA REDOX when I wake up and eight ounces before bed. I use RENU 28 on my knees after almost every workout. On a super heavy training day, I will double my ASEA REDOX intake, drinking eight ounces four times a day."
ASEA Experience
"In 2018 I tore my meniscus and credit a huge amount of my recovery to using ASEA's RENU 28. My first competition back, post injury, took place in March, 2019. I swam at the TYR Pro Series Championships in Des Moines Iowa. I placed 3rd in the 100 breaststroke, I'm now ranked 8th in the World so far this year! Great first competition back!"
Cody Miller started his swimming career for a different reason than most. Due to a medical condition called Pectus Excavatum (a chest deformity), he started swimming to monitor his heart and breathing. As it turned out, he was a natural, having success early on in his career. Cody set national records in both the 100-yard and 200-yard breaststroke as a teen. He then went on to swim for Indiana University.
During his collegiate career at Indiana University, Cody set school, Big Ten conference, and national records. He was a 10-time NCAA All-American, and was undefeated at the Big Ten Championships, sweeping the breaststroke events all four years.
Cody is currently one of the top swimmers in the world. He's set eight American Records and competed for Team USA all over the world. He swam in championship finals at the World Championships, World University Games, The World Cup Series, and the Olympic games.
Over the course of his career, he's won 15 major internal medals, including a Bronze medal in the 100m Breaststroke at the 2016 Rio Olympic Games. Most notably he won Gold alongside Michael Phelps as a member of the 4×100 medley relay in Rio, the final event of Phelps's career.
This past summer Cody finished 5th in the 100m Breaststroke at the 2017 World Championships in Budapest and won gold in the 4×100 medley relay.
The Person Behind The Athlete
Cody married his fiancée Ali on September 9, 2017. He spends most of his days training at Indiana University in Bloomington. Code is an avid movie buff and when he's not in the pool or making YouTube videos, you can usually catch him at a movie theater. He also loves playing with his dogs, or re-reading his favorite Harry Potter books.
Upcoming Events
In June, 2019, Cody will represent Team USA at the FINA Swim Championship Series Final in Indianapolis, Indiana. Cody is one of only four people in the world who was selected in the event to compete!
In August of 2019 Cody will represent the United States in Lima Peru for the Pan American Games Championships.