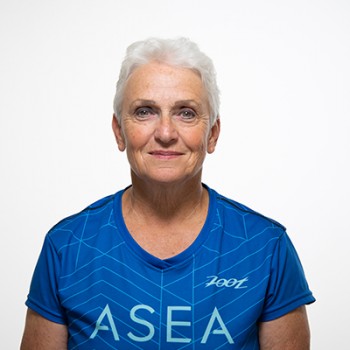 Years Competing: 50+ Years
Years Using ASEA: 5
Favorite ASEA Product: ASEA REDOX
ASEA Routine: "I start my day off with an 8 oz pouch ASEA REDOX every morning, then drink another 8 oz pouch of ASEA REDOX between workouts. On my most challenging days, like my race days, I drink 24 – 32 ounces of ASEA REDOX a day. I also use RENU 28 daily to help keep any aches and pains away."
ASEA Experience:
"I started using ASEA in 2015, a time when I had not been able to finish an Ironman race. I was having problems recovering from my workouts, and I was unable to do the training needed to adequately prepare for a race. I was very fatigued and my health was another issue, as I kept getting sick. I'd recover from a cold and start back in training only to get sick again. It was a very frustrating time for me as I enjoy the training and racing.
"I have always been very active, and I feared that the joy of training was not going to be part of my life anymore. Being introduced to ASEA has given me back the joy of being an active adult and allowed me to do things I never dreamed of being able to do. I never dreamed of being a world champion in an endurance sport as a female in her 70's. Yet, thanks to ASEA, I am indeed a world champion!"
Dexter Yeats is a 73-year-old triathlete with an impressive racing career spanning equestrian competitions to endurance riding to trail running. In 2015, she discovered and began competing in triathlons but became disappointed thinking she was getting too old to compete in the sport that she loved. Later that year, she began using ASEA REDOX and immediately noticed a drastic improvement in her recovery. Her disappointment turned into joy and gratitude as she subsequently qualified for four world championship races.
In 2016, she raced in the Ironman 70.3 (half) Coeur d'Alene, winning her age group and qualifying her for the World Championship 70.3 Ironman in Australia, where she then placed fourth against the best in the world. Her final race of 2016 was the Cozumel Ironman race in Cozumel, Mexico, where she finish first in her age group, qualifying for the 2017 Ironman World Championship.
Her success continued in 2017, when in just three months she raced two half Ironman races, placing fourth in one and first in the other. She followed those performances by competing in the Ironman Race Coeur d'Alene, winning her age group. Three difficult races in just three months!
Since ASEA came into her life, Dexter has qualified for seven Ironman World Championships (three half Ironman World Championships and four full Ironman World Championships). Her crowning moment was when she became the Ironman 70.3 World Champion in the female 70-74 division in 2018. She is currently ranked number one as the Females 70-74 Ironman All-World Athlete.
The Person Behind the Athlete
Dexter is a wife, mother, grandmother, and great grandmother. She lives with her husband in the mountains near Coeur d'Alene, Idaho, and they have a dog and cat who keep them entertained. She spends most of her time training for Ironman events while her husband works on his racing motorcycle in their home garage. On her days off, she can be found in her sewing room designing and creating quilts for the people she loves.